Films in Production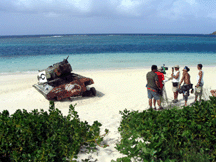 Click photo on Flamingo Beach, Culebra, PR to see our Food for the Sun shoot website!
Clip from
Food for the Sun
---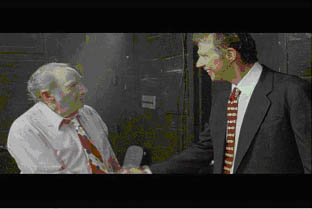 Pepe Ráez had been the king of Flamenco, a true latin hero to all who loved his music, hoping for a brilliant comeback. Based on a real-life story.
Clip from
Featuring George Jay Wienbarg III. Set for 2011 release!
---
Blog from the film
This is the blog for the new independent feature film , Far Rockaway featuring , Alexis Savino, Stephanie Lynn, Carmine Raspaolo, Gwen Bucci, George Jay Wienbarg III, Michael Schürger, Tammy McNeill, Abbie and Nathan Overend, William and Michael Rutkowski! Directed by Michael Schürger produced by Ari Taub and Hit & Run Productions. Release is set for 2011!
Dinner Table scene from Far Rockaway
George Jay Wienbarg in the role of David, a married lawyer, who works for his wife's father is confronted about his journey.
---
Memories of Buffalo Bill with Alice Frederici Reneau

Charming excerpts from the 4-hour documentary directed by David Capurso with family photos and the first movie images ever captured, from Thomas A. Edison! It is Alice's view of her Uncle, William Frederick "Buffalo Bill" Cody and his wife, Louisa. The the documentary short of my then 106 year-old Aunt Alice Frederici Reneau and her Memories of Buffalo Bill and His Wife.
Executive produced by the Buffalo Bill Historical Center in Cody, Wyoming, release is set for 2010!
---
Favorite Movies
There is one movie I can think of that I really loved, really thought was fine. That was, Until the End of the World directed by Wim Wender. A truly existential journey into the meaning of life, it was a 4-hour wonder of escapism, entertainment, color and mystery. Trailer: Until the End of the World

My father loved the horror genre, and the first scarry movie he ever took me to was The Tingler directed by William Castle with Vincent Price. I was never quite the same, but it was nice to believe that although horrifying--it was all untrue! My early film development had to be the wonderful Price and in his series from Mask of the Red Death and The Pit and the Pendulum.
I did get to see Buck Rogers at Cheyenne's Lincoln Theatre, and the news reels that went with them on those lazy Saturday afternoons. It was only 12 or 13 years after the end of World War II after all. Remember? Our parents dropped us off. We were all of eight year old.
Others films are The Graduate because I came of age at the same time Dustin did—and because of of the music which I played to everyone in Cheyenne on the radio. Also, Apocolypse Now. Anything Brando or Nicholson is is ok with me. Kubrick. 2001, A Clockwork Orange. Changed our lives.
In Chicago someone told me, you have to drop acid and see the films of Fredrico Felini which I did at a theatre where of all of his masterpieces were shown in one day. It was one Saturday by myself when I arrived in Chicago in 1972 as a young 21 year old news director for Lee Abrams at WICV FM. The station never went on the air, but, that's another story. The films changed my life.